Friends of Mountwood
Come join The Friends of Mountwood Park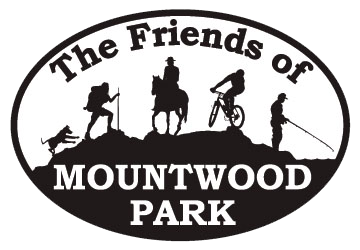 Do you enjoy Mountwood Park? Would you like to volunteer your time, ideas, or money to make it a beautiful, fun-filled park for all to enjoy? Then come, join The Friends of Mountwood Park, a 501(c)3 non-profit volunteer organization dedicated to improving the park.
Our meetings are at 6:30 p.m. on the 2nd Thursday of each month at the Stiles Administration Building in the park. Come, join us! At this time there are many things going on. We have formed several committees that you may be interested in joining. We have a nature committee, a history committee, and a dog park/Woof Fest committee.
We opened the Campground Nature Trail on April 21, 2013. We had an Archaeological Dig again this year on June 10-13 and June 17-20. We helped install an archery range with 3-D targets and are working on grants and fundraisers to help the park improve its image and usefulness to the public.
Our Visitors' Center/Museum displays artifacts and the history of Volcano. It is open May 1 thru October 31 from 12:00 to 4:00 p.m. on Friday, Saturday, Sunday, and special events. We need volunteers to help staff the museum. If you can work a few hours each month, it would help a lot.
Our dog park is open and very successful. Our annual Woof Fest, held in October, has the addition of a Miss Woof Fest Pageant. The winners of last year's pageant are helping represent the park in parades and are also helping with the park's activities and events.
We have completed many successful activities and, with your help, we can continue to grow. Please call 304-679-3914 or go to our website at www.friendsofmountwoodpark.com for an application.